As 2020 draws to a close, we review some of the most beautiful and luxurious gifts we have discovered throughout the year. Many have been selected with sailing life in mind, and we strive to bring you the most prestigious items available. Many have been reviewed in previous editions of NAVIS, and others are completely new. Either way, we present the most illustrious and magnificent gifts for your indulgence. We hope to provide inspiration and insight into the latest designs, technology, and goods available because, after all, tis the season!
Categories:
Rolex New Submariner
The Rolex Submariner has close links with deep-sea diving. Its gleaming dial and the rotatable bezel is highlighted by the Cerachrom insert that comes in a range of colors. A chroma light display allows for easy reading in low light conditions, and luminescent material highlights the geometric display markers. The patented self-winding mechanism offers absolute precision, and the watch is resistant to shocks and magnetic field disturbances.
Ball Engineer Hydrocarbon NEDU
With its chronometer-certified functions and patented helium system, the Ball Engineer is shockproof, antimagnetic, and waterproof to 2000 feet. The stainless steel and titanium bracelet strap incorporates a patented folding buckle and extension system. An underwater operable chronograph circled by a luminous, unidirectional ceramic bezel displays hours and minutes with startling accuracy, and provides easy night-time reading thanks to 21 micro gas tubes.
---
Montblanc Patron of Art
These exemplary writing instruments are crafted to the highest possible specification. 2020's exclusive piece is the Moctezuma 4810 Fountain Pen Collection. Four distinctive solid gold decorated pens commemorate the achievements of the legendary Aztec ruler. Incorporating and reflecting Aztec culture with designs inspired by ancient weaponry that features symbols and adornments found on architecture and jewelry of the time.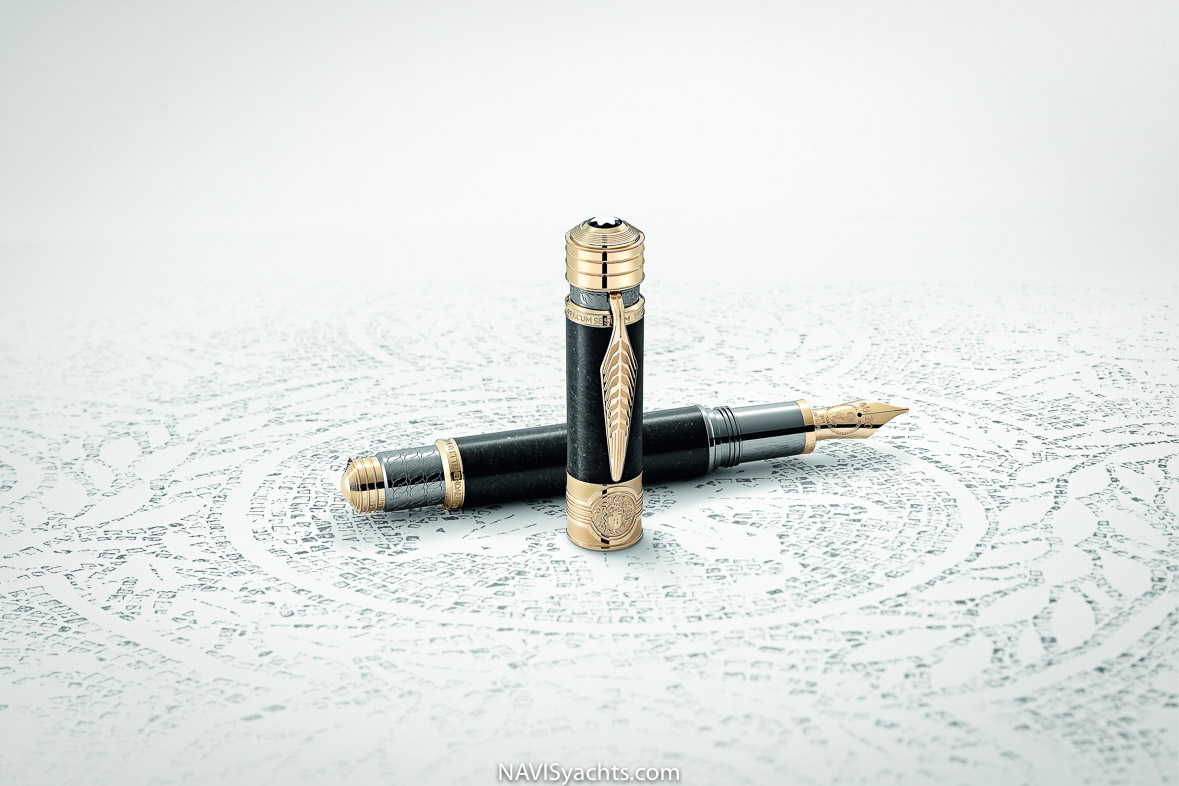 Graf von Faber-Castell Bentley "Limited Edition Barnato"
To commemorate Woolf Barnato, one of the famous 'Bentley Boys,' this writing collection incorporates many of Bentley's features. From the signature dark green to the diamond guilloche patterned barrel. Polished chrome elements highlight the pen's darker color, and the Bentley' B' is featured atop a chrome bezel sitting atop a knurling, creating a mechanical feel to the overall design.
Read more about this pen, click here.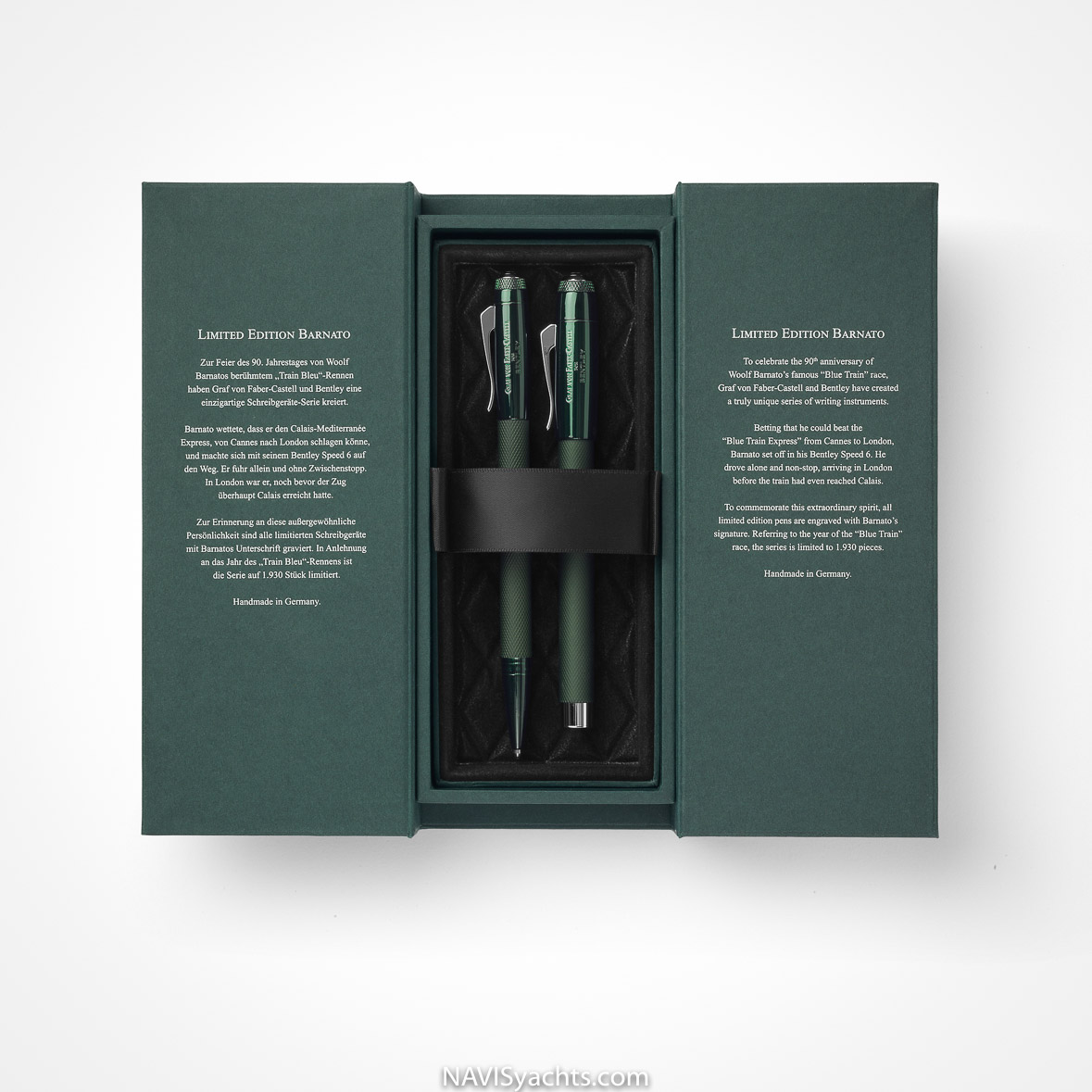 ---
Gill Marine
Penryn Hybrid Jacket
Available in this season's Ocean color, the Penryn Hybrid Jacket is a highly breathable top that offers superb insulation and an excellent warmth to weight ratio owing to the soft down loose feel fiber insulation. This full-length jacket provides excellent mobility and comfort due to 4-way stretch fabric and has non-absorbent and quick-drying properties.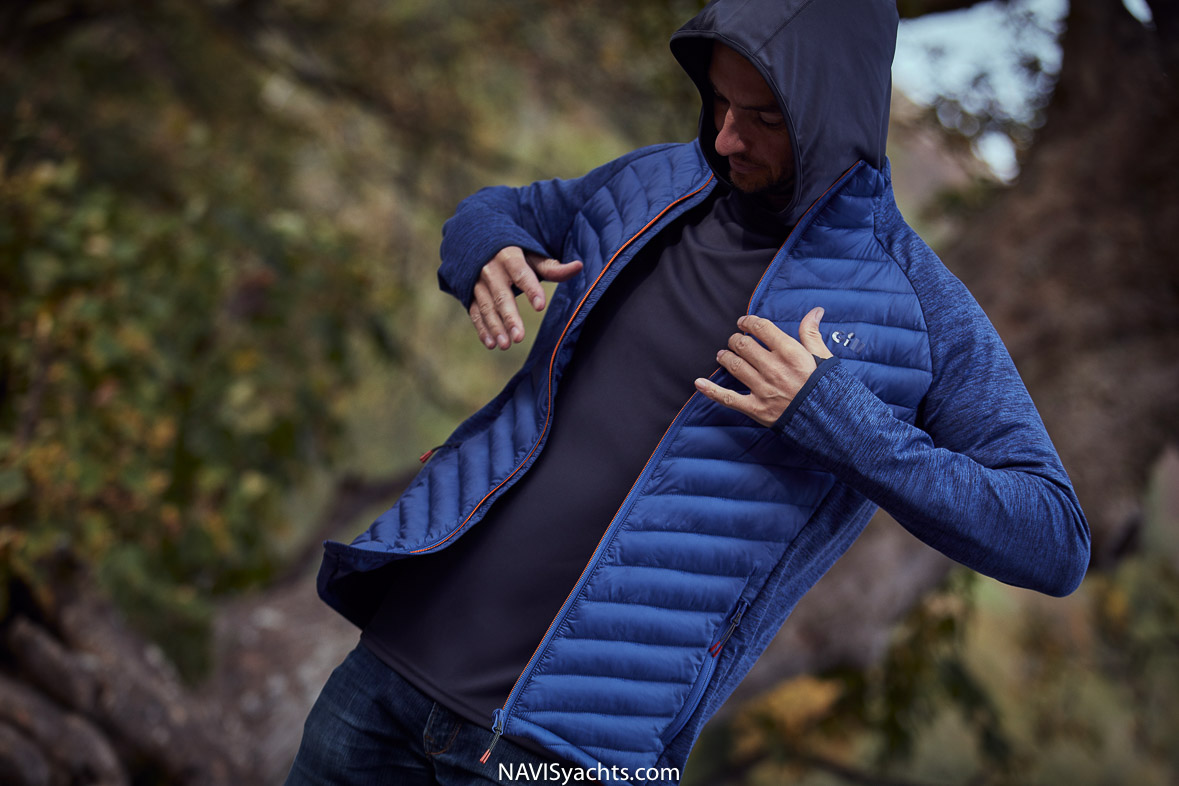 Kenton Jacket
A full-length jacket that offers superior water-repelling and thermal insulation. Fully taped seams further ensure the garments' water-resistant properties and adjustable cuffs provide ultimate wet weather protection. This non-absorbent jacket is quick-drying and warm as well as being breathable. Available in Steel Grey and Ocean colors.
Race Team Backpack 35L
Store your items with confidence with this fully waterproof backpack. Crafted from tarpaulin with welded seams, your essentials are guaranteed to remain dry. Large front pockets and easily accessible compartments allow easy storage and retrieval. The 35-liter capacity provides plenty of space, and the padded breathable construction makes it a perfect choice for sailing enthusiasts.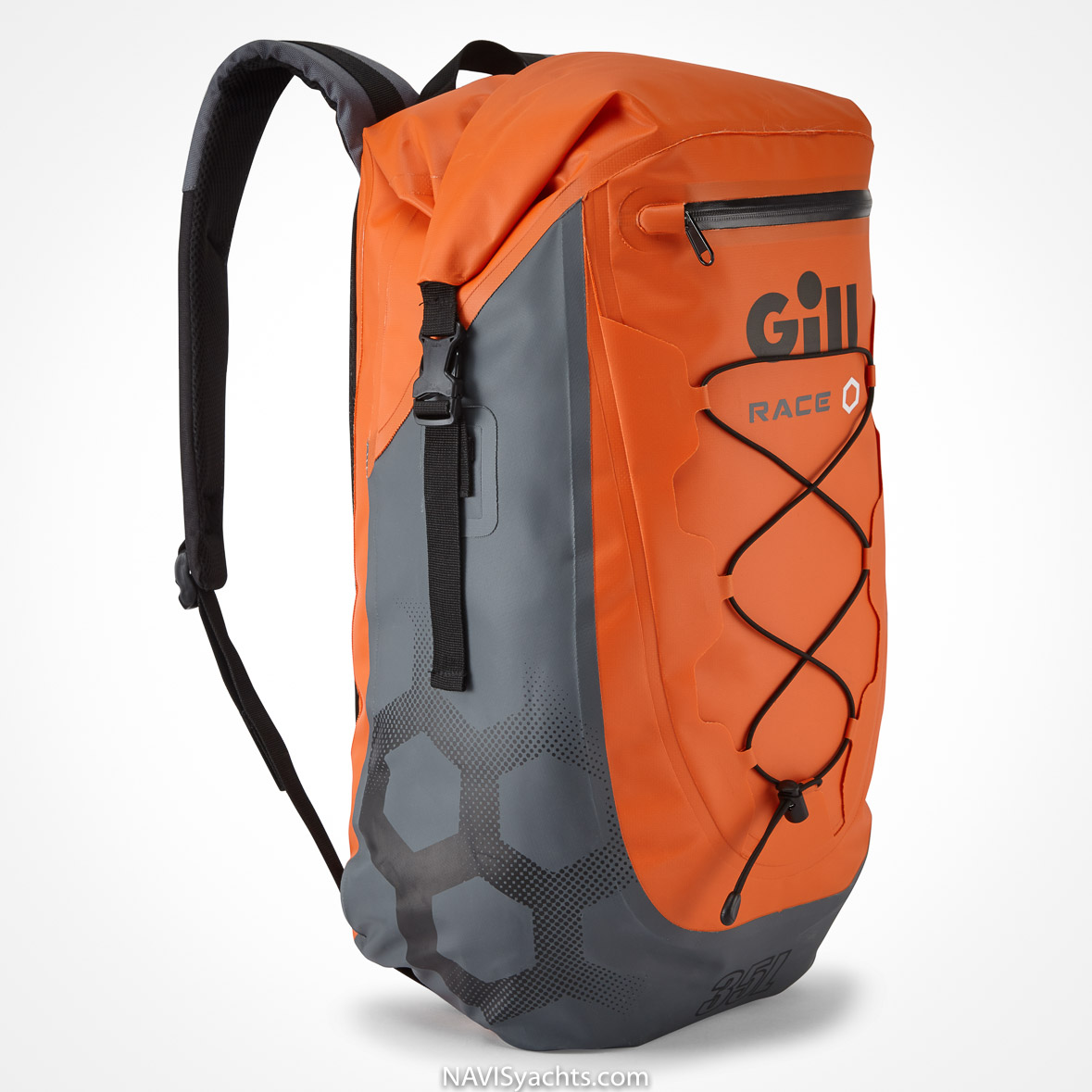 Helly Hansen
Saltro Jacket
Designed using HellyTech performance standards, this durable 2-ply jacket is available for both men and women. Constructed to be windproof, waterproof, and breathable. It is durable and quick-drying and incorporates hand warming pockets and a D-ring for an engine kill cord. Comfortable and stylish with a warm fleece collar, this jacket will keep you warm, dry, and safe while aboard a yacht.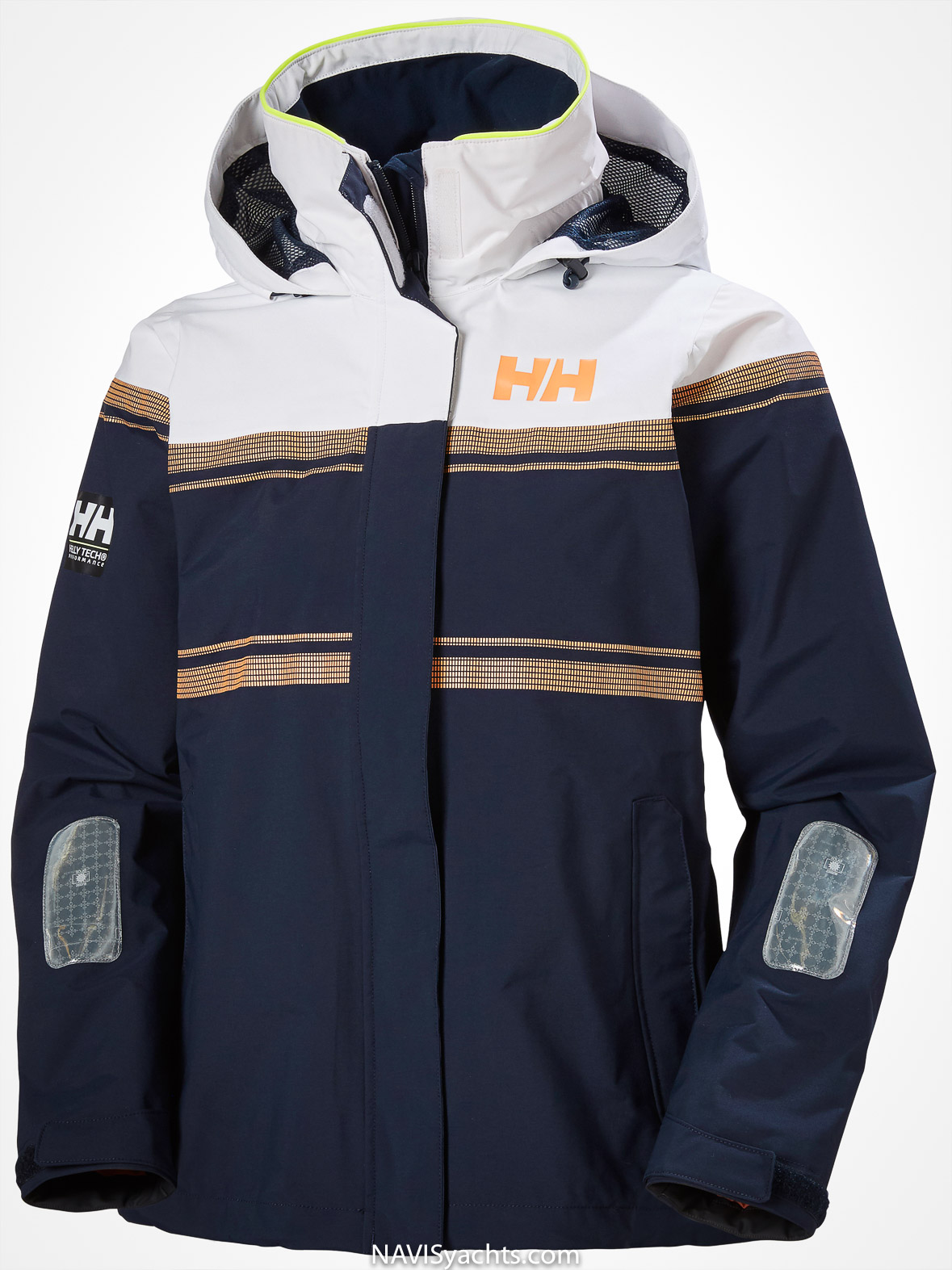 HP 1/2 Zip Pullover
This double knit polyester jersey with contrast piping offers light protection against weather conditions. Quick-drying and comfortable, this high-performance garment is perfect for those with an active lifestyle. The high zippered collar keeps the wind out, and the pullover has been designed without side seams to provide maximum warmth. Designed from cool quick-dry fabric, it is finished with marine-inspired printed graphics.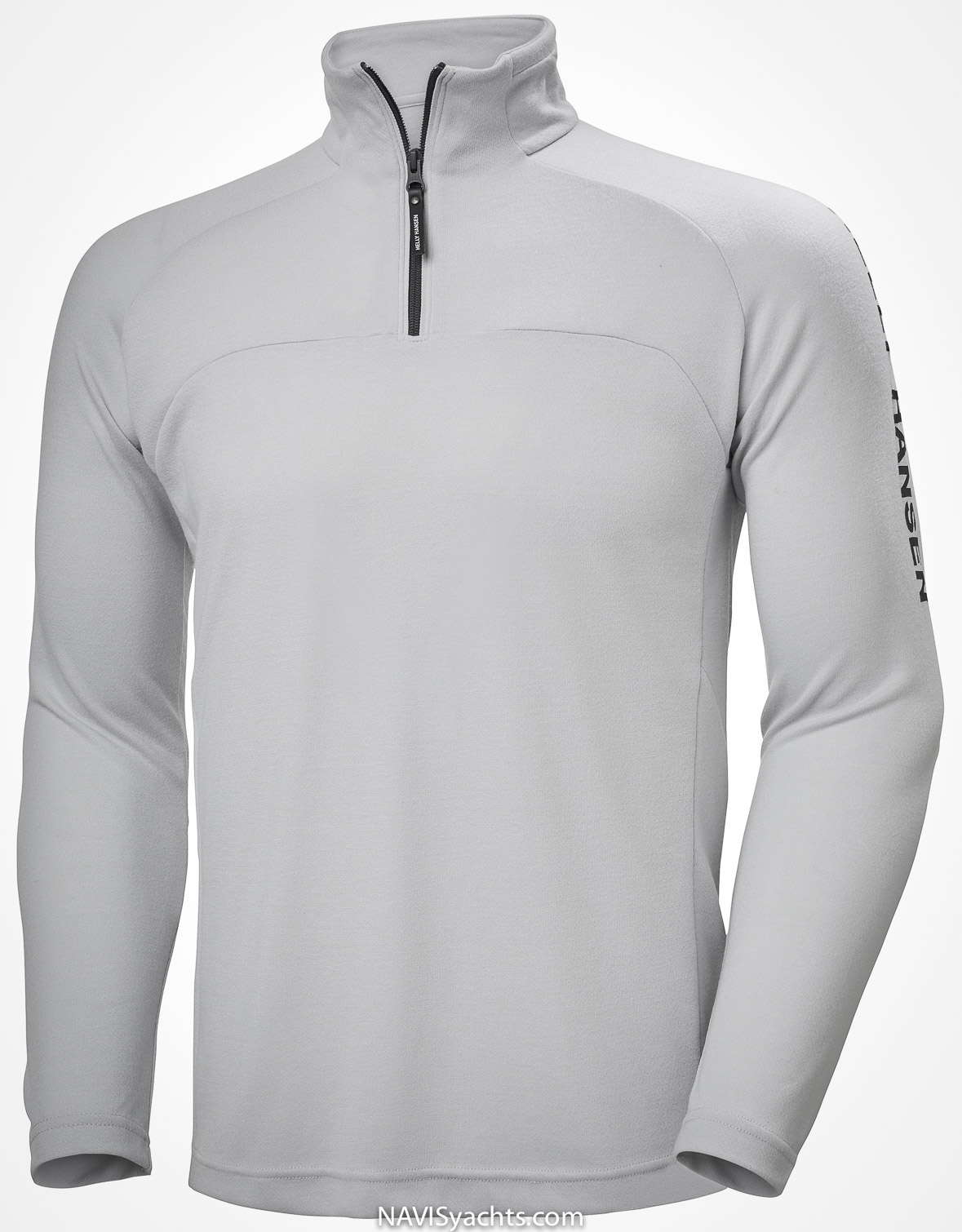 HP Dynamic Shorts
Men's and women's lightweight sailing shorts are styled from durable stretch fabric for hard-wearing and active use. These quick-drying shorts protect from wind, rain, and spray, and sport an adjustable waist and D-ring. Reinforced at critical points to provide enhanced durability, while cargo pockets and slant hip pockets allow space for daily essentials. The quick-drying fabric makes them an excellent choice for days spent aboard a yacht.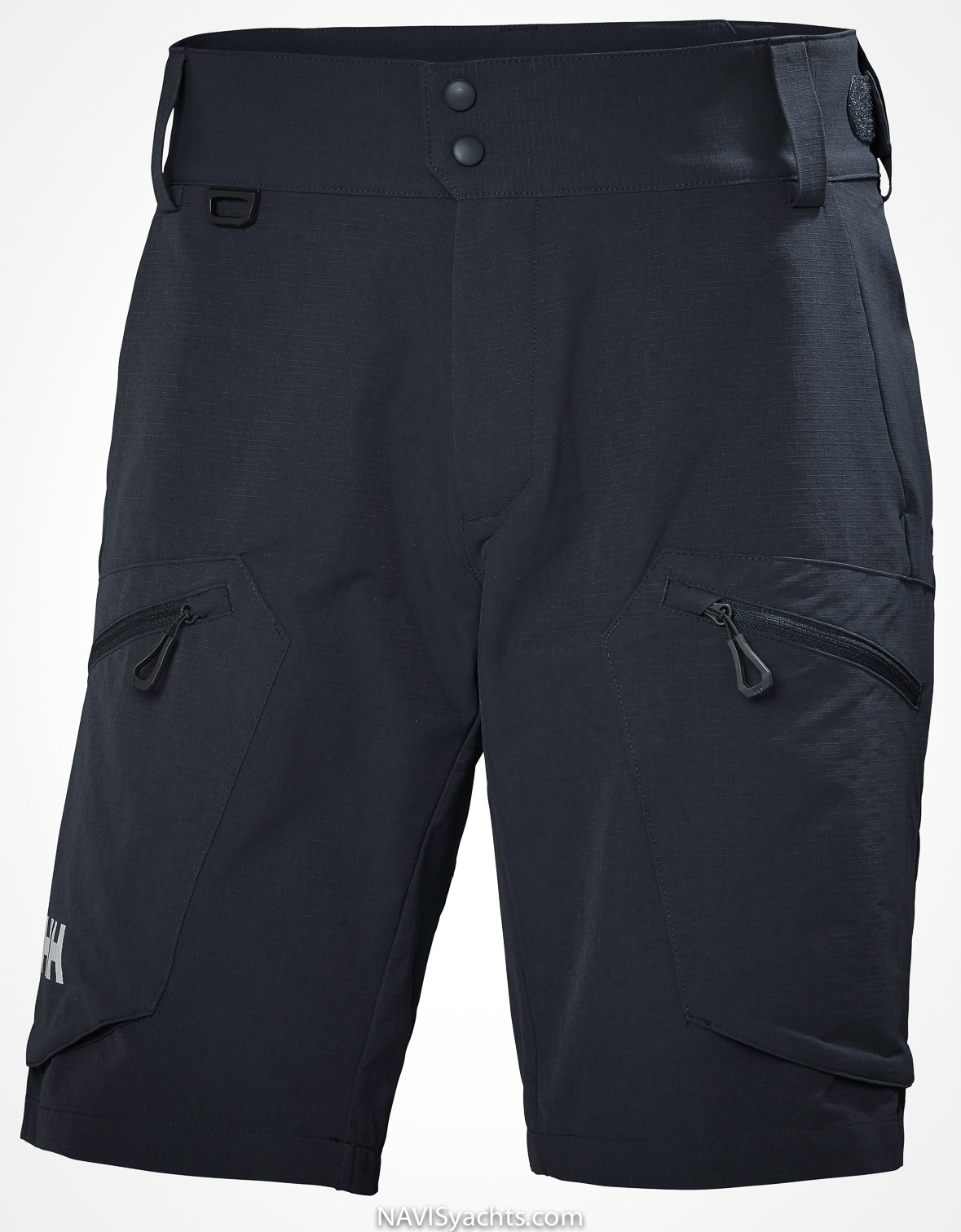 W Verglass 1/2 Zip
An ultrasoft ladies ½ zip-top made from super soft fabric and featuring wicking properties. Stylish and perfect for active sailors, this garment is available in a range of attractive colors. Designed for warmth and breathability, this fleece is constructed to provide protection and is a great companion for outdoor activities on or by the water.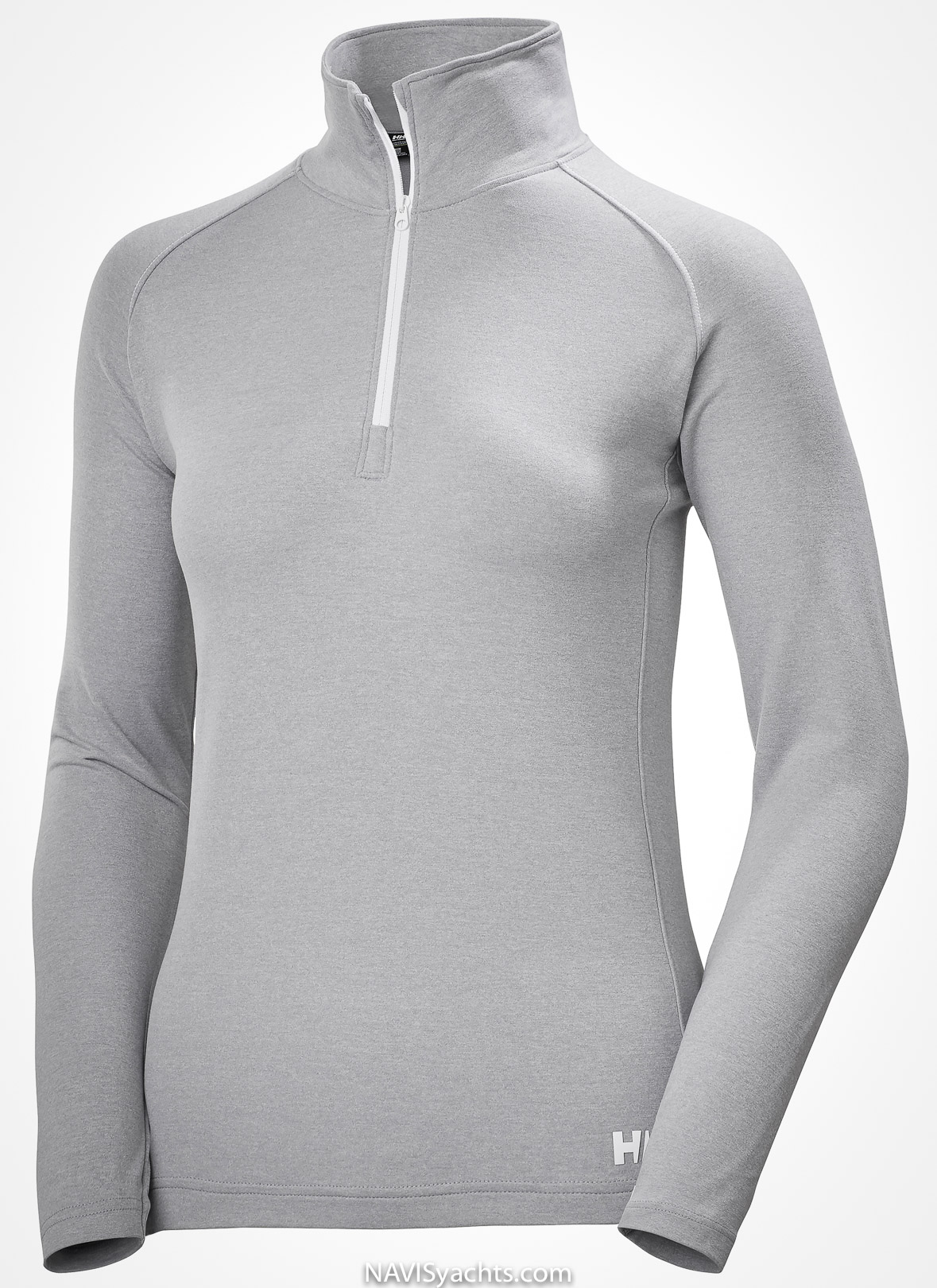 HH Scout Duffel S
The Scout Duffel bag features a large U-shaped opening for ease of access and enhanced stability. A large, padded, side pocket allows storage of items separate from the main compartment, which is lockable for safety. The Duffel Bag contains hidden shoulder straps for ease of carrying, and the 30 liters capacity provides ample storage space for your boating essentials.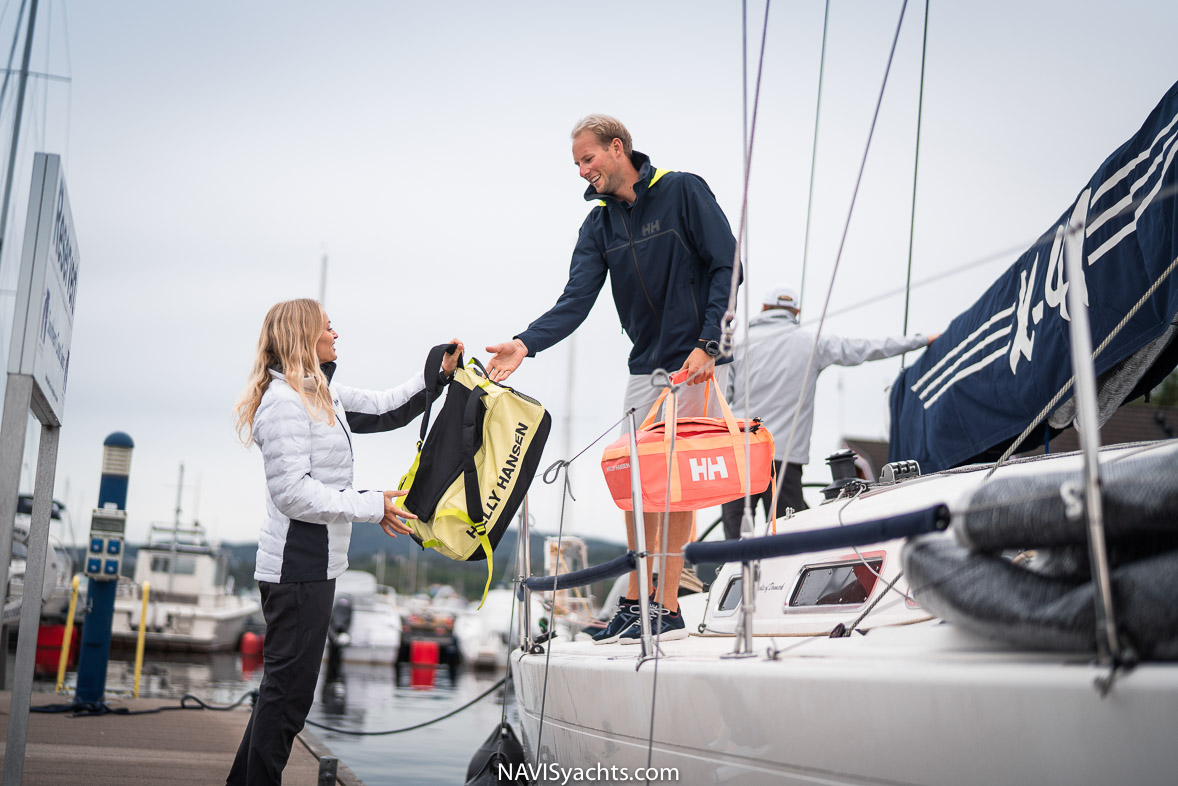 ---
Bang & Olufsen Beolab 90
The geometrically astounding visual design of the Beolab 90 is surpassed only by its superior performance capabilities. This massive 8200-watt speaker is fully adjustable to keep the listener at the forefront of the listening experience. Using advanced technology and premium sound engineering, the Beolab 90 intelligently compensates for different acoustic properties in environments to provide exceptional audio quality.
Read more about the Beolab 90, click here.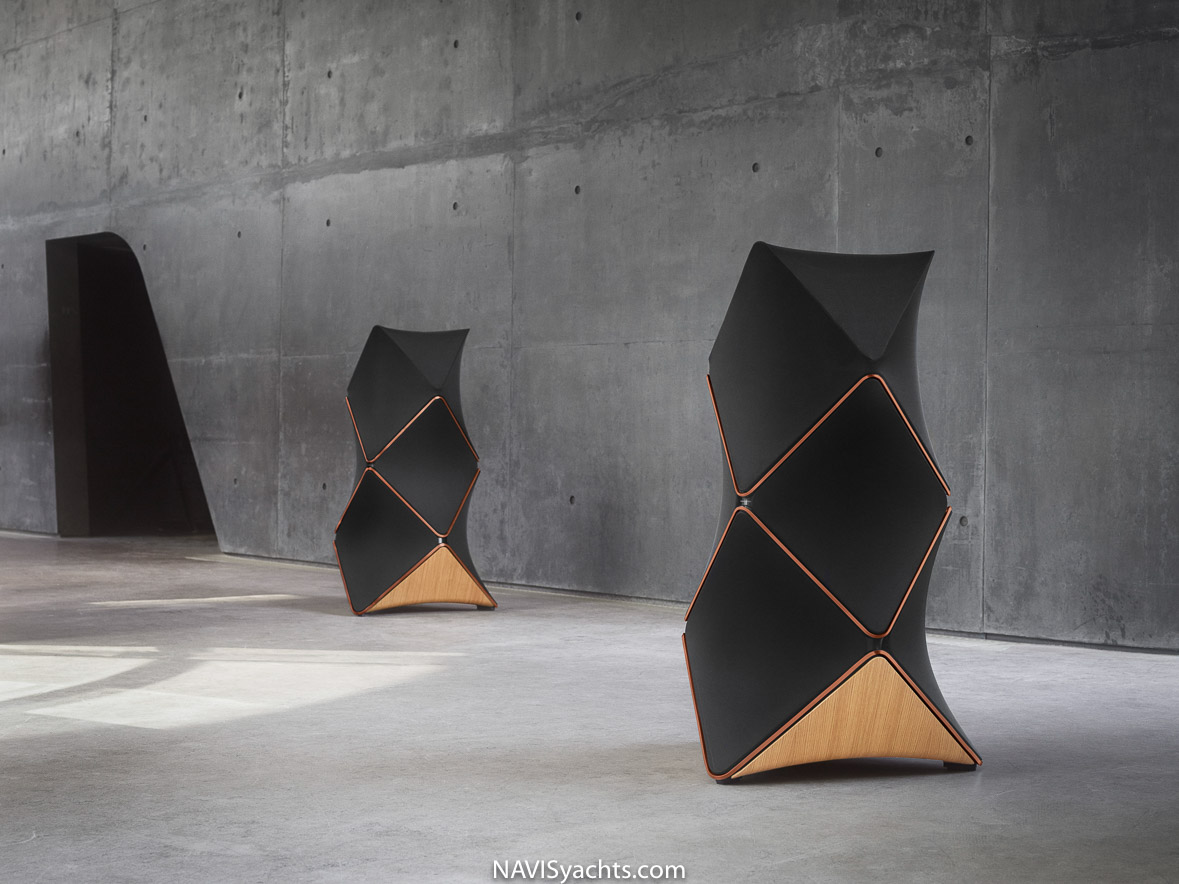 Focal and Naim for Bentley
French and English design expertise combine to offer sophisticated styling and cutting edge technology. This stellar combination of hi-fi headphones and wireless loudspeaker promises an audio environment that is harmonious and pure. These special edition items feature the Bentley iconic logo and design cues while creating a listening experience that excels.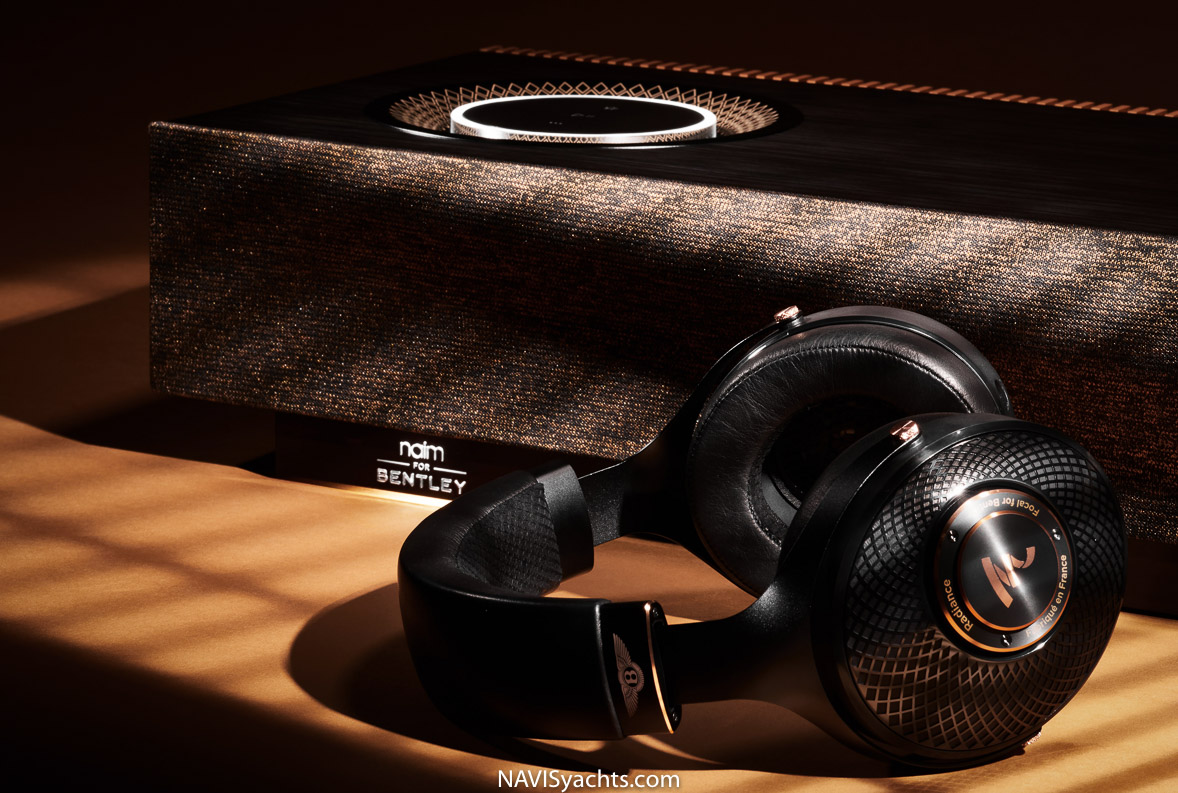 ---
Nanoleaf Shapes Hexagons
These smart lighting panels bring a touch of drama and high-level technology to any room. The Nanoleaf is a series of hexagonal panels that can be assembled in any configuration. Each panel is capable of emitting 100 lumens and is touch-sensitive, easily changing the color and brightness to complement any mood or setting. Preset light sequences perform displays ranging from static scenes to rippling or fading effects. The panels also integrate with Amazon Alexa, Google Assistant, and Apple HomeKit and can be set to pulse to the beat of playing music.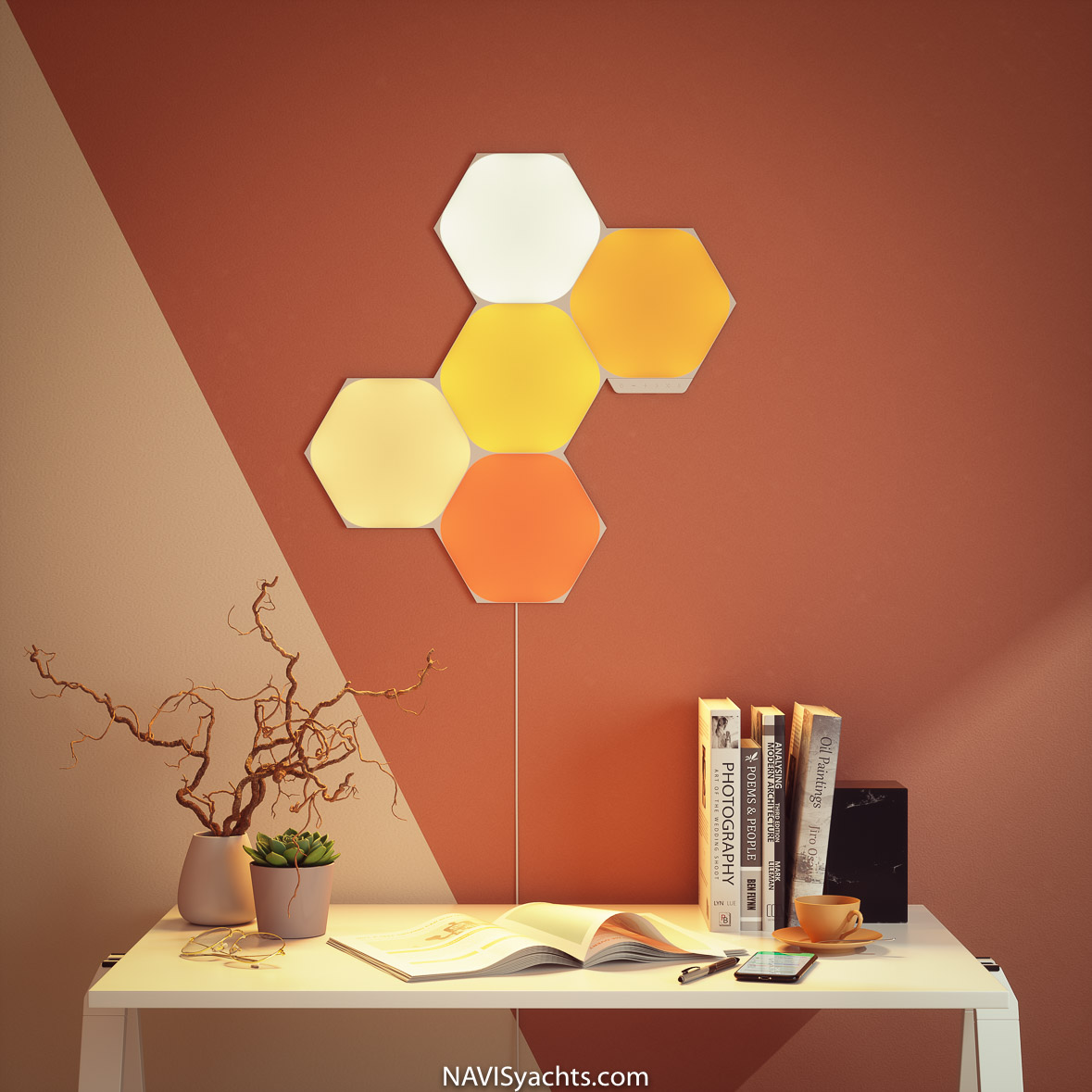 Skyroam Solis X
Stay connected globally in over 135 countries with this 5G wifi hotspot that is capable of supporting up to 10 devices. Select from a variety of flexible plans and benefit from fast data on the move. The Skyroam features Bluetooth connectivity, speaker, microphone, and an 8MP camera, and its technology seeks the best possible data signal available. The long-lasting battery provides enough power to keep you online for extended periods.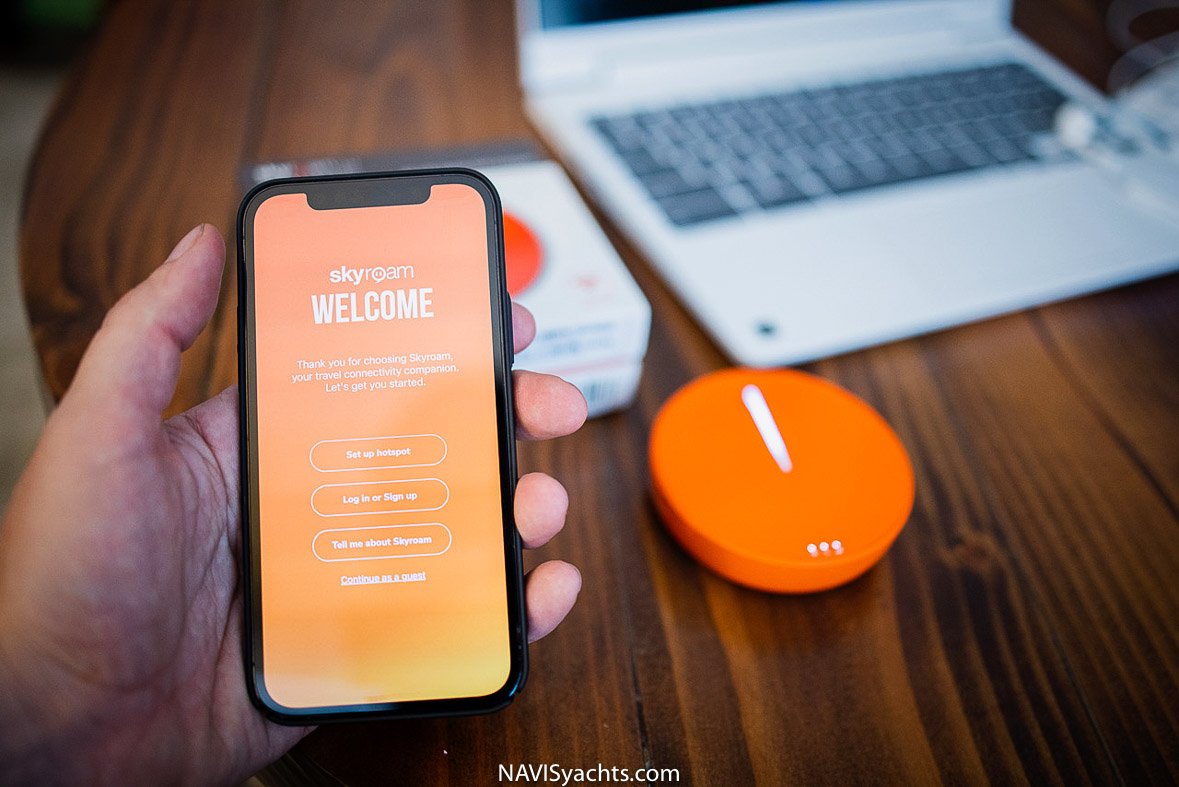 ---
Curated by NAVIS
A Classic Re-imagined: Hôtel de Paris Monte-Carlo
Ultimate luxury in palatial surroundings, the Hotel Paris Monte-Carlo offers an unforgettable 5-star experience. From its glamorous casino to its Michelin starred restaurant the luxurious lighting and materials complement the adjacent French Riviera. Nearby business and shopping districts offer excitement and new adventures.
Read more about Hotel de Paris, click here.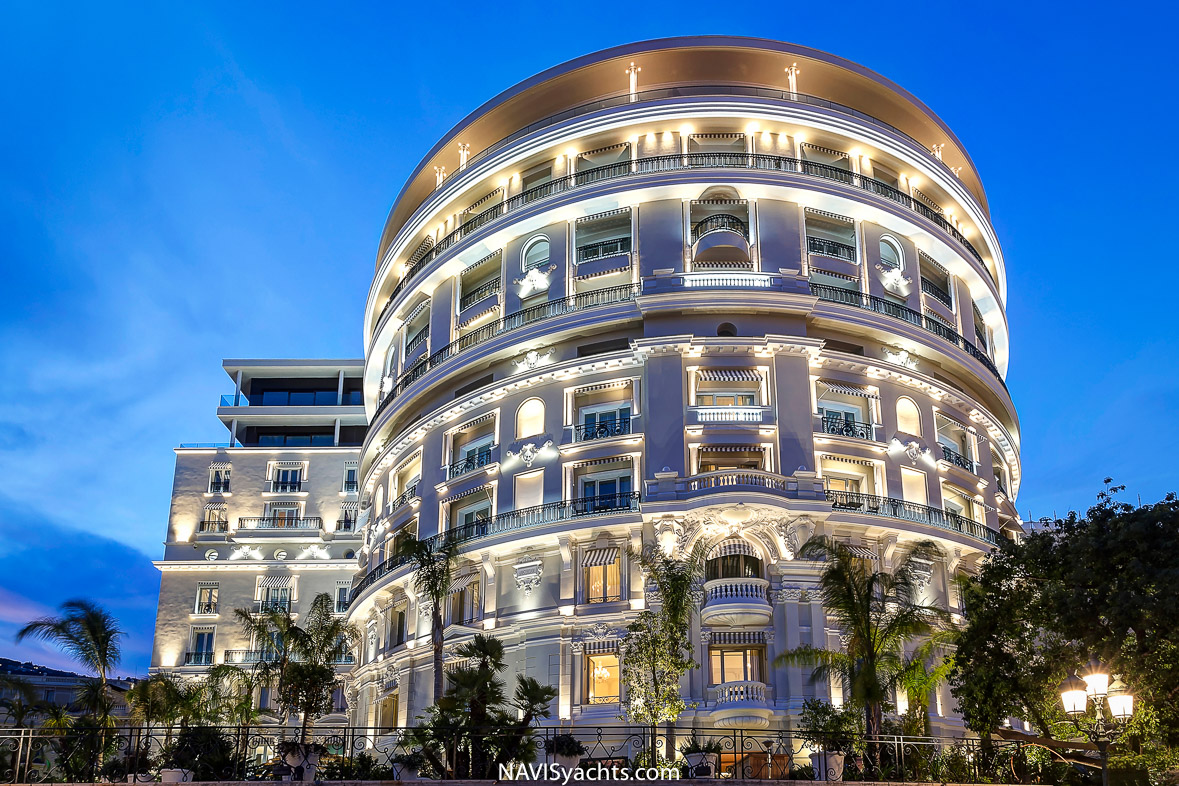 Sowaka Hotel
Sowaka offers a tranquil and peaceful escape from the busy streets of Kyoto. Situated in the Gion district, this Japanese sanctuary blends historical detail with a contemporary modern design. Crafted to be a living museum, the decor combines serene timelessness with state of the art technology. No two rooms are designed alike, leading to a unique and individual experience for guests.
Read more about Sowaka Hotel, click here.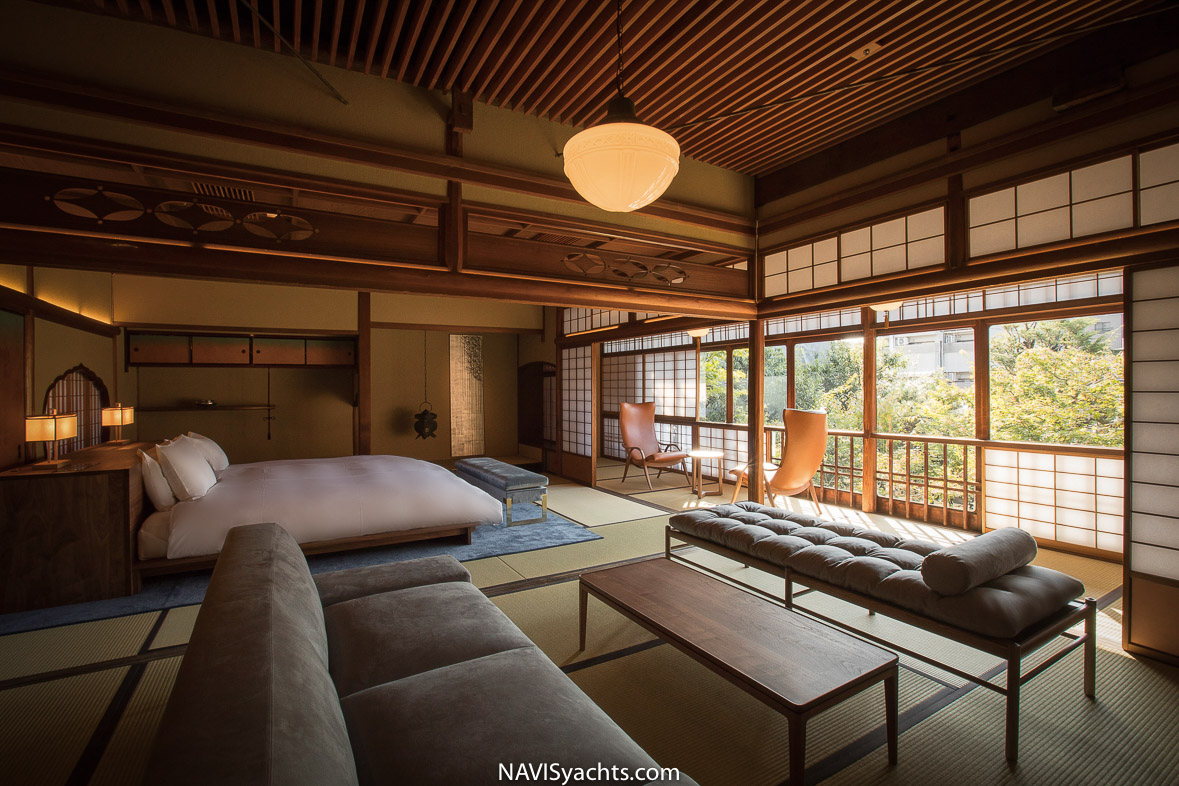 San Clemente Palace Kempinski
Located on an exclusive island adjacent to Venice's bustling streets and canals, this elegant and secluded hotel allows guests the ultimate in privacy and relaxation. Gourmet restaurants, Buddha Bar Beach Restaurant & Pool Bar, Europe's Best Hotel Spa awarded spa & fitness centre, an outdoor swimming pool, tennis court, 1.500 metres jogging path, pitch & putt course, kids' club and even a lagoon creates a haven with 8 minutes ride by complimentary shuttle boat to St Mark's Square. Opulent surroundings with magnificent decor belies the monastic settlement that the area once was. Guests can enjoy the stunning grounds and historic scenery.
Read more about San Clemente Palace Kempinski, click here.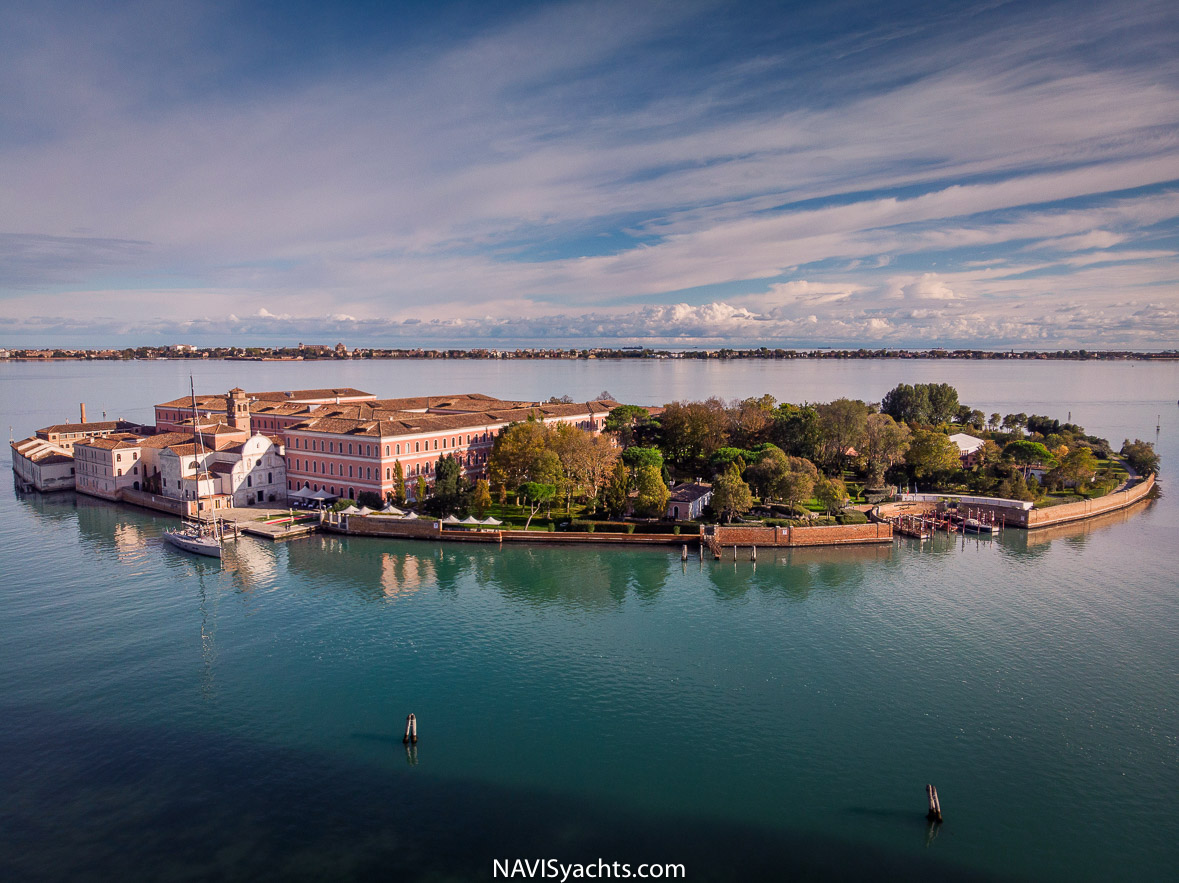 Hotel Metropole, Monte-Carlo
With design features from Karl Lagerfeld and a Givenchy spa, this hotel oozes old world charm in a low key and private environment. This is a place to truly relax and get away from it all, with every attention paid to creating tranquil and stress-reducing experiences. A rooftop pool, large lounge areas, secluded cabanas, and splendid gardens all combine to make this the most peaceful of retreats.
Read more about Hotel Metropole, click here.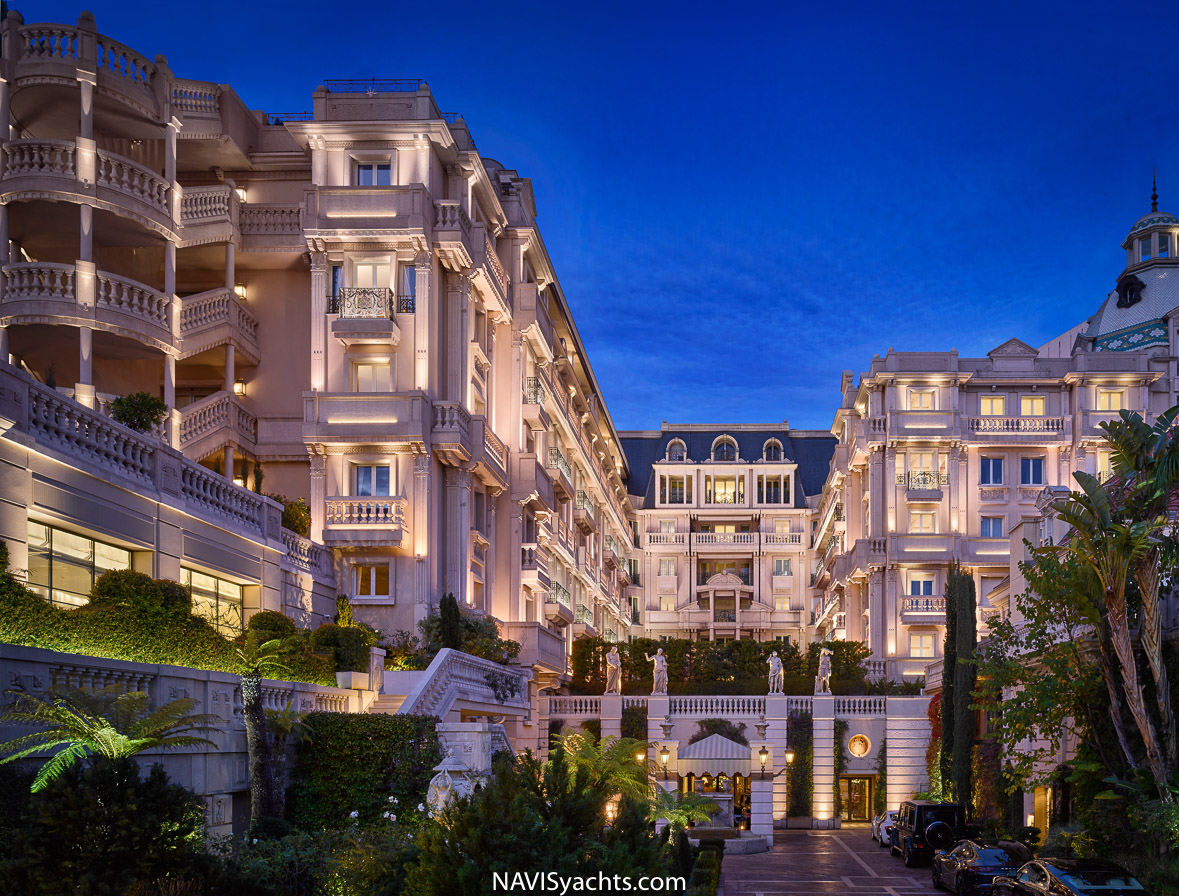 Kempinski Hotel Berchtesgaden
Panoramic views across the Bavarian Alps and the range of recreational activities available make this hotel a favorite getaway for many. Situated atop a mountain at an elevation of 1000m, the scenery visible from this hotel is nothing short of breathtaking. Get close to nature with a range of activities from snowshoeing and skiing, to biking and hiking. After a day out on the slopes, relax at the luxury spa with a Finnish sauna and Physiotherm infrared cabin.
Read more about Kempinski Hotel Berchtesgaden, click here.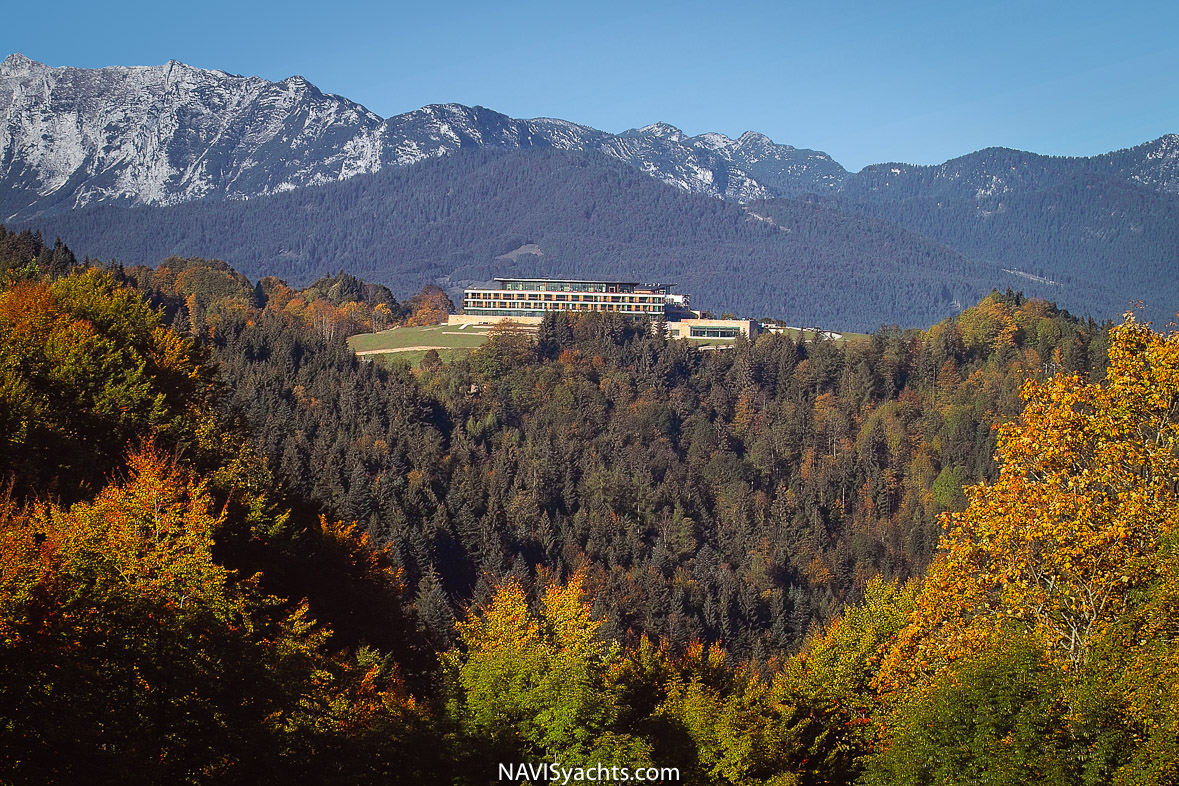 Bvlgari Resort, Dubai
Celebrating the rich culture and luxury of Italy, the Bvlgari Resort is a stylish and elegant destination. With a private beach club and its own yacht club that overlooks a 46 boat harbor, this hotel strives to recreate an experience reminiscent of a carefree life on the Meditteranean. With a host of activities available, this is a perfect destination for all the family.
Read more about Bvlgari Resort Dubai, click here.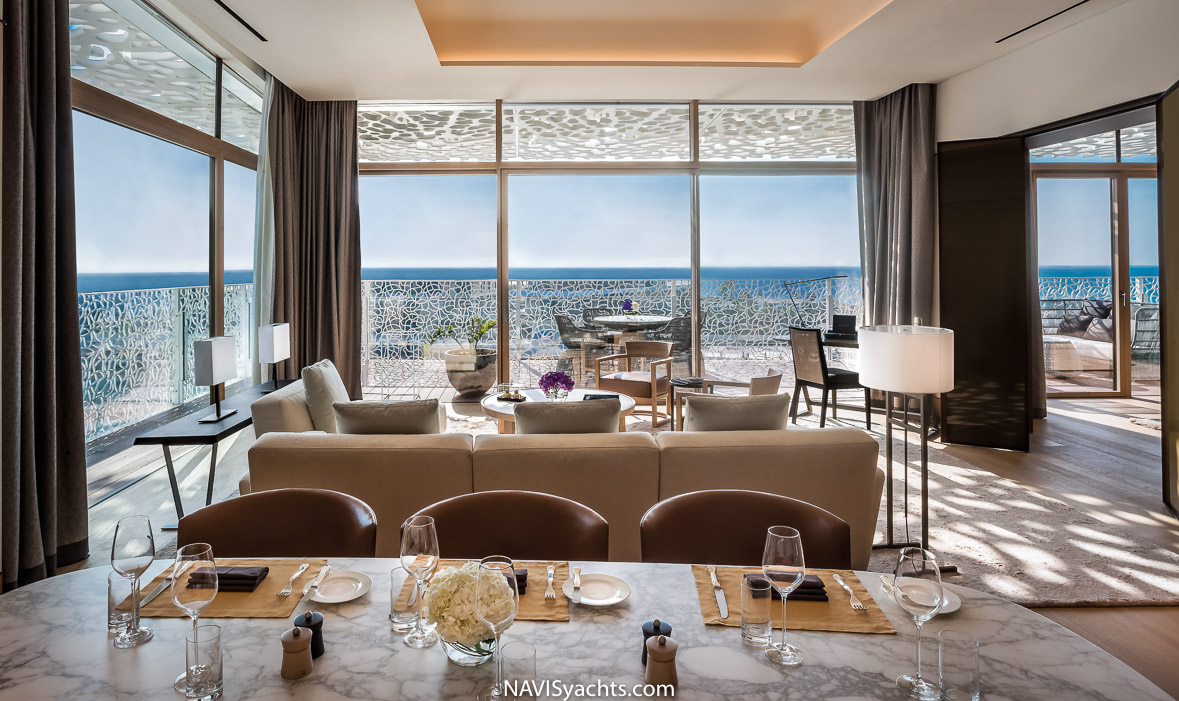 ---
Reviewed by NAVIS
Maserati GranTurismo MC
This performance-minded motorcar is the fastest production built car offered by Maserati. With superior handling and a wealth of customization options, it is a magnificent engineering piece that easily rivals other vehicles in its class. The sleek body lines look muscular yet stylish, and the 4.7-liter engine delivers an impressive 454HP.
Maserati is redesigning the GranTurismo for 2022, and it will be the first Maserati available with an all-electric Maserati motor.
Read more about the Maserati GranTurismo MC, click here.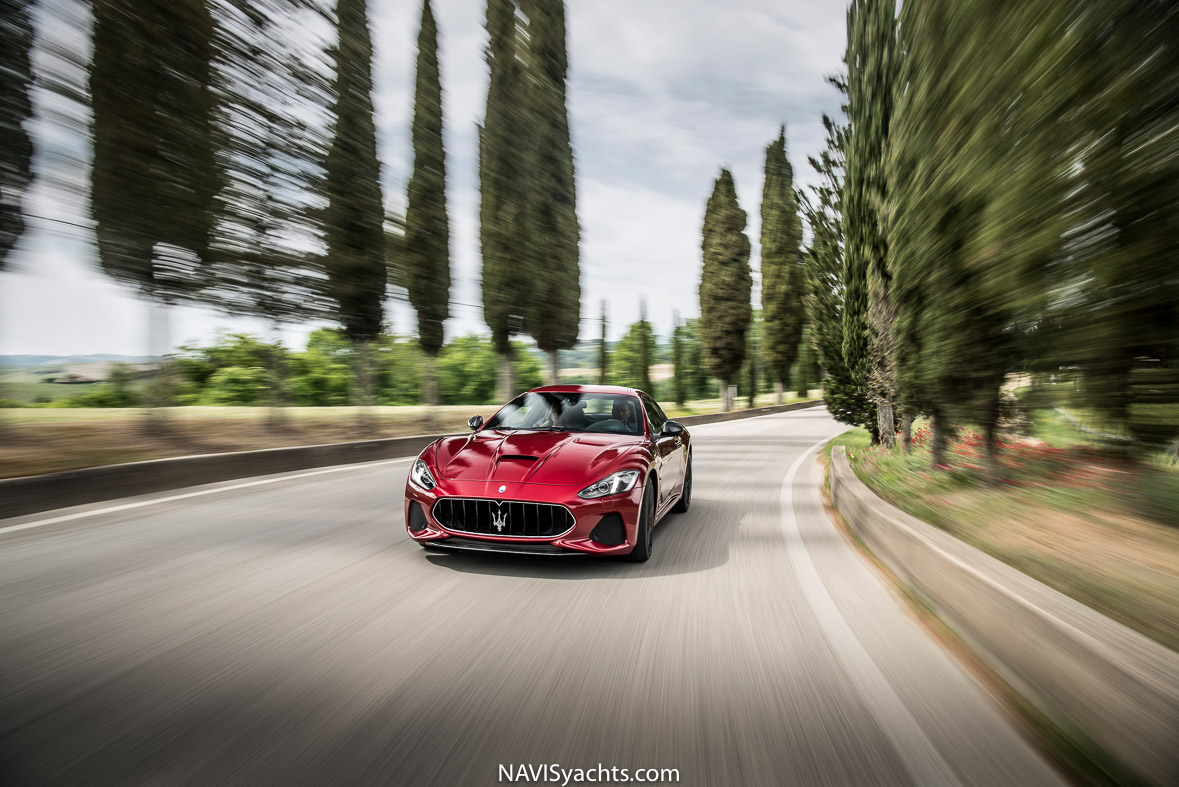 Lamborghini V12 Vision GT
The Lamborghini V12 Vision can only be described as futuristic in its appearance. With 774 HP and features like a holographic display projection, this car is leveraging the most cutting-edge technology possible. With a superlative power-to-weight ratio this concept car promises a driving experience that will satisfy the most demanding of adrenaline seekers.
Read more about the Lamborghini V12 Vision GT, click here.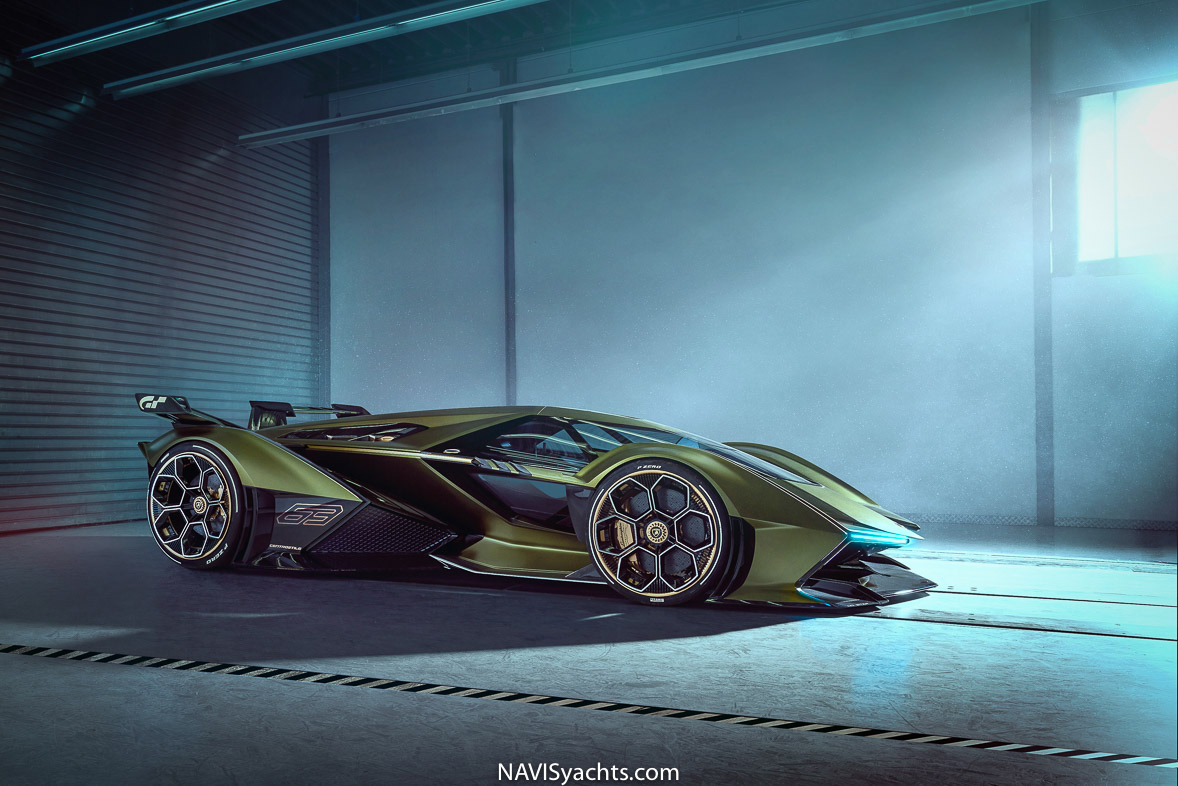 Porsche 911 Turbo S
A smooth performance sports car that delivers power and luxury. Recent performance enhancements have created the quickest ever turbo for Porsche, capable of a 205mph top speed. With a standard all-wheel-drive for top-level handling, the 2021 911 Turbo S can go from 0 to 60 mph in 2.6 seconds.
Read more about the Porsche 911 Turbo S, click here.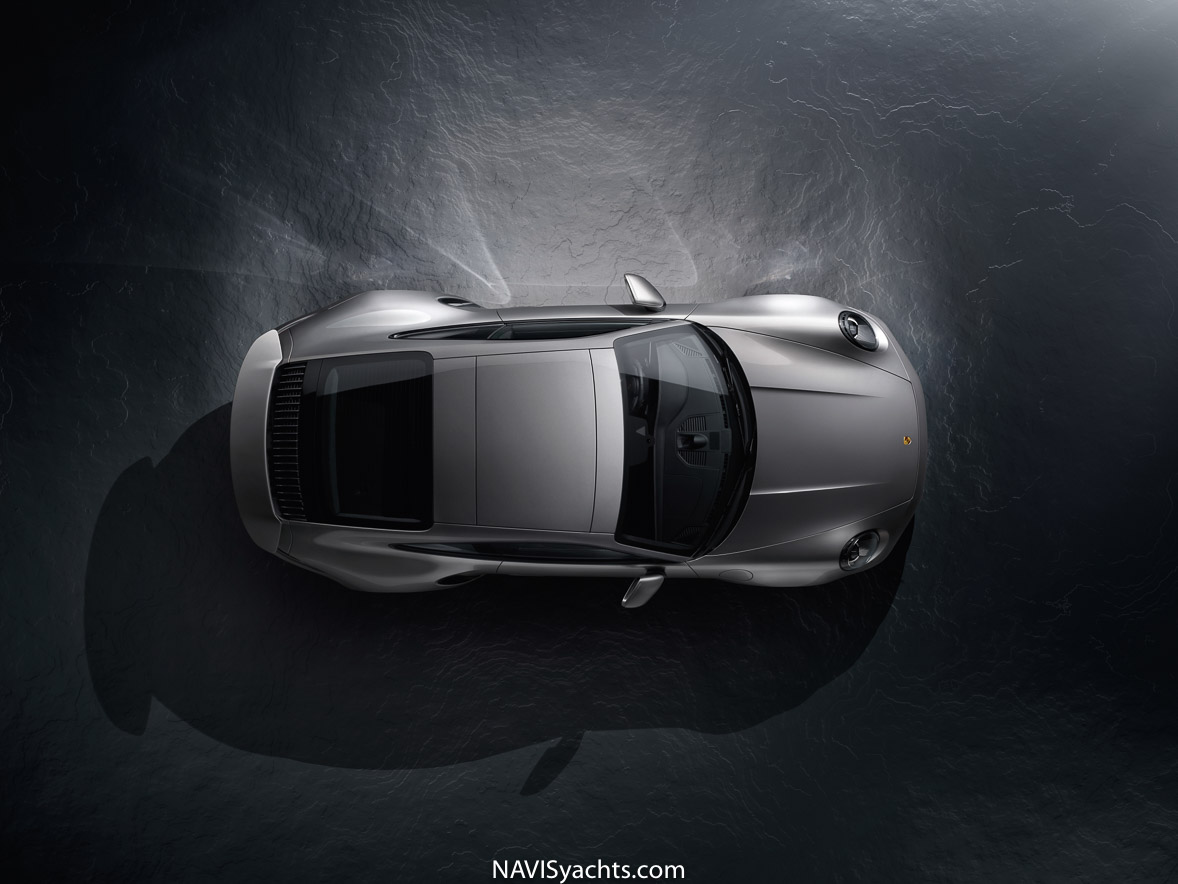 Ferrari F8 Spider
For style, speed, and thrills, look no further than the Ferrari F8 Spider. This boldly styled supercar further shows off its good looks with a fold-down roof to add to its sporty appeal. Fearlessly sculpted and aerodynamically efficient, the Spider is a head-turner with its driver-oriented cockpit that features a touchscreen panel and digital display.
Read more about the Ferrari F8 Spider, click here.
Lamborghini Sián Roadster
The Sian Roadster uses hybrid technology with the world's first supercapacitor. With an open-top styling and V12-engine, this vehicle is the epitome of performance and power. Futuristic elements combine to create a visually stunning profile, and the interior has been enhanced with Oro Electrum (gold) highlights.
Read more about the Lamborghini Sián Roadster, click here.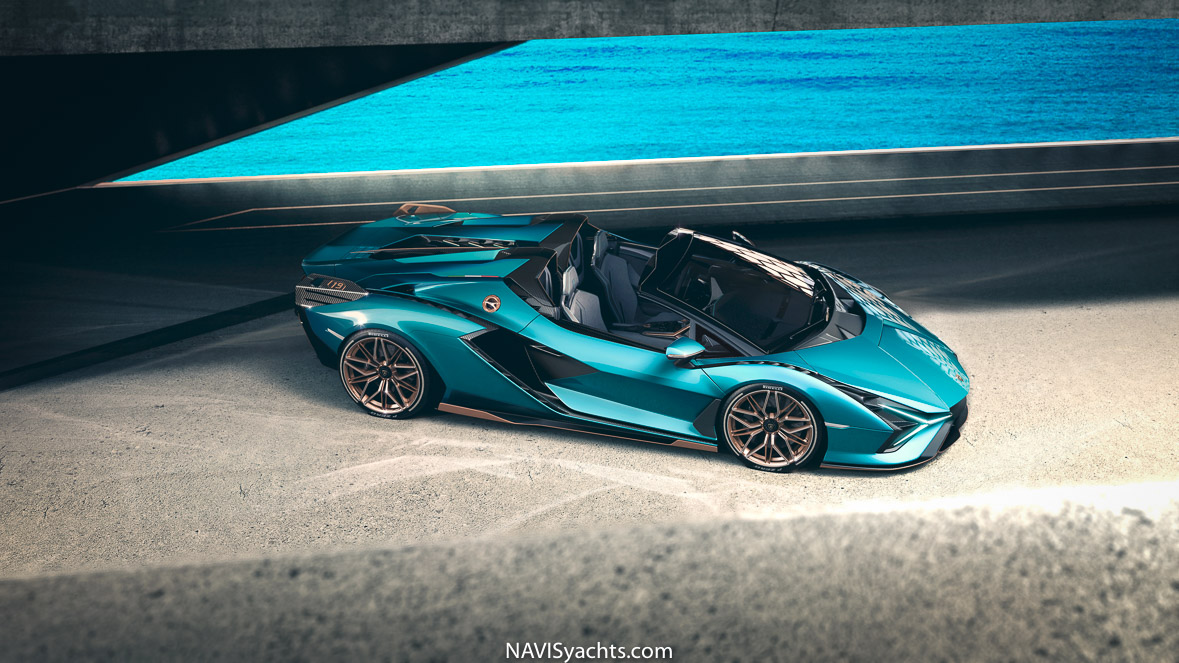 Bentley Mulliner Bacalar
A limited-edition Bentley that is the rarest 2-door model from the luxury car manufacturer. The striking roofless, open-air performance car is strong and dynamic in both form and function. Sculpted by Bentley's designers, the muscular exterior houses a wraparound driver cockpit with an advanced dashboard that contains three configurable windows to satisfy any driver preference.
Read more about the Bentley Mulliner Bacalar, click here.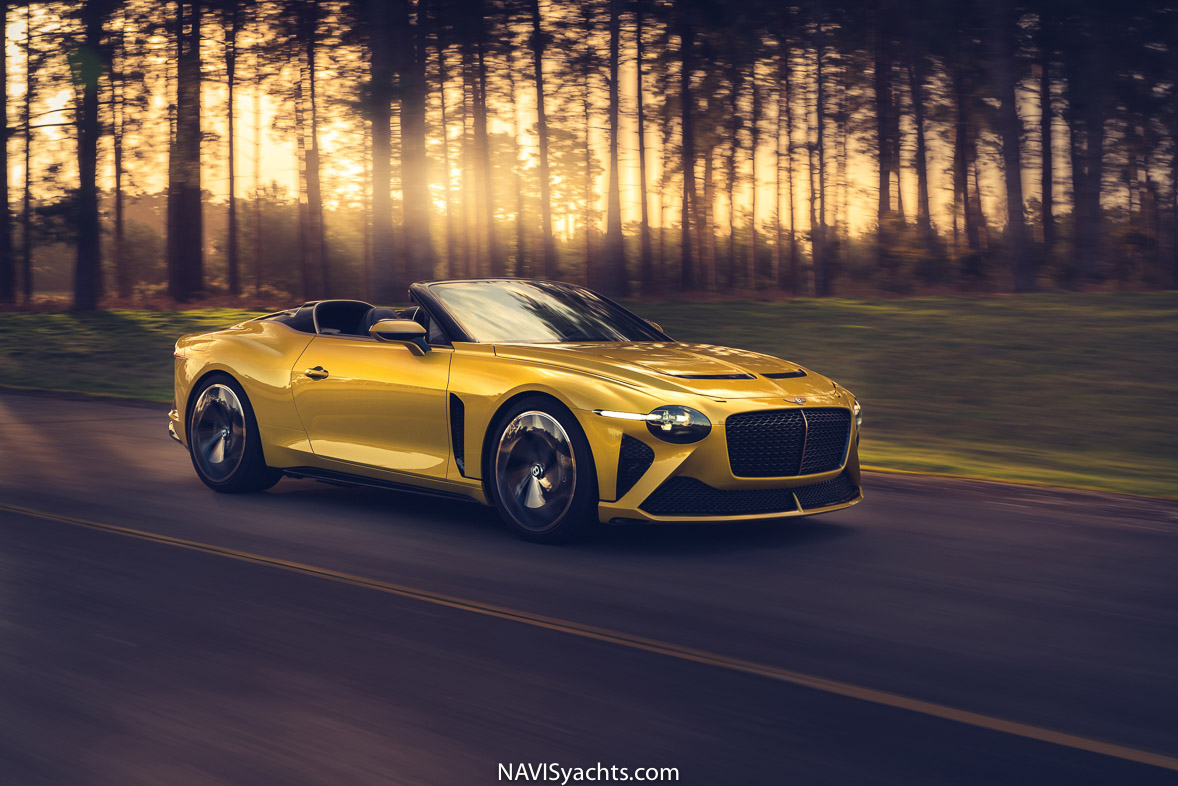 This concludes our 2020 curated selection of luxury products and experiences. We hope that the aforementioned items excite and inspire as well as providing an insight into some of the best vehicles, technology, and accessories of 2020. Attention to detail, craftsmanship, and quality are evident in each one of the articles featured. These outstanding first-class brands are synonymous with the freedom and splendor of the yachting lifestyle.
Photos: Tommy Picone, Bvlgari Media, Ball Engineer Media, Rolex Media, Faber-Castell Media, OLFF APPOLD, Gill Marine Media, Kyle Meyr, HighMind.se, Bang & Olufsen Media, Bentley Studio, Nanoleaf Media, Courtney Hale, adam kaz, MONTE-CARLO Société des Bains de Mer, Sowaka Hotel Media, Kempinsky Media, Jérémy Jakubowicz, MC_L.Galaup, TOMMY-PICONE, moritzhoffmann.com, Maserati Media, philip prupprecht, Porsche Media, Ferrari Media, Lean Design GmbH, Mark Fagelson Photography | Words: Emma Hersh